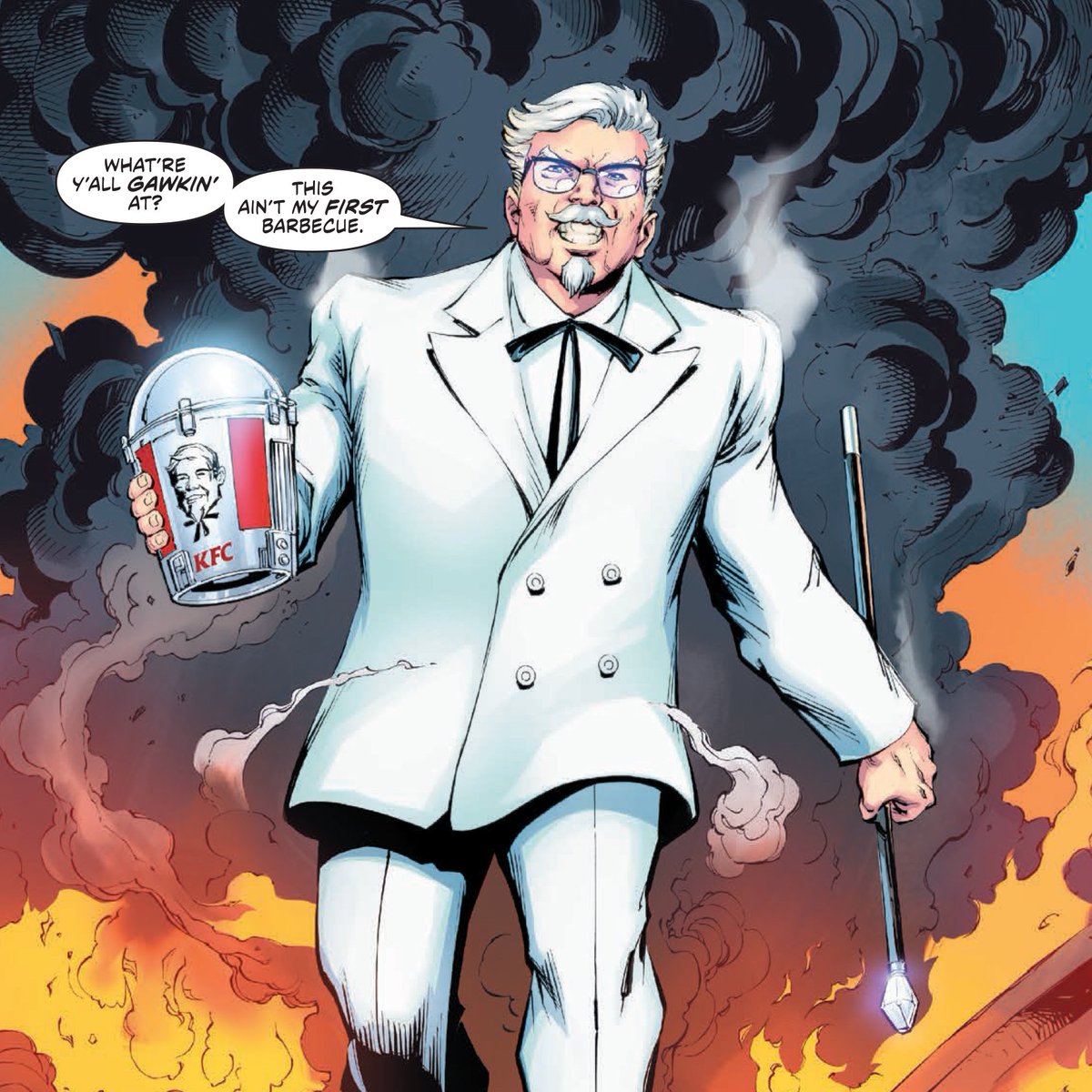 SCENE. The Australian Cricket Board sit on crates around one of those disgusting, cream 1980's-style boardroom tables. They're inside a dark, musty warehouse for some reason.
THE COLONEL enters screen left, hunched and hobbling over his gold-and-ivory cane as he slowly inches towards the table. He pulls a gentleman's kerchief from his breast pocket, and wipes the perspiration already leaking from his forehead as he begins to speak.
"Well now, I've gotta say I'm very proud of you boys, very proud. You've done well. Fried chicken, a food which has never been identified with any aspect of Australian culture in past history, is now intrinsically linked to your national pastime."
ACB EXECUTIVE #1: "Actually, Colonel, Australian Rules Football is our national pastime."
THE COLONEL, having eventually reached the hideous, off-white table, spins around to face the red, gin-blossomed face of the one who talked back to him.
"HmmmmmmmmMMMMMMMMMMMMMMMMM??? What is THIS NOW? You dare interrupt me during a presciently subdued INTRODUCTION TO CHARACTER!!!"
The executive recoils as rivulets of oily – and in some places crispy – saliva fly towards him.
"I'm s-sorry, so sorry, Colonel. It's just that cricket usually involves sitting around, drinking to excess and abusing the British, which we at the ACB feel should be in no way associated with the zeitgeist of Australian culture."
THE COLONEL: "This is a fair point you make, my red friend. To be fair with all of you, we tried to get involved with the AFL before this ridiculous sport, but they were already to involved with those Pfizer bastards."
The COLONEL slams his cane down on the boardroom table, the monstrous memory of 80's capitalist excess, and glares into the middle distance.
"Damn you, Pfizer."
He clicks his fingers, and suddenly three uniformed chicken-servers emerge from the shadows and produce an old wicker rocking chair, placing it carefully before the now-thankfully damaged boardroom table. The Colonel leans down, pauses for what seems like an eternity, and with a loud "GUFFAGHHHAH" flops into the chair. He reaches into his jacket and begins padding his underarms with the kerchief.
"I do not belong here."
"I feel something more must be done in this SWELTERING SUMMER SEASON. Yes, something more. The sport and the chicken must be intertwined forever, implacably, like my eleven secret herbs and spices and the crispy skin of those fine birds."
ACB EXECUTIVE #2: "But Colonel, I don't understand what else we can possibly do! You have to understand, eating oily fried chicken is not something people want to do when sitting in what is basically a radiator in the middle of the Australian summer…"
"You think I DON'T KNOW THAT? Do you think I don't know the product I produce is, in fact, an egregious and grotesque manipulation of GOD'S HOLY PLAN!"
The Colonel's eyes light with twinkling fire, like the heating rods in a rotisserie
"I know what I have created. I know what I have wrought upon the world."
He stands up with a distinct lack of grace, turning to face a beam of light leaking in through a broken window.
"It was all beautiful, once. Good, wholesome country-style food, served with a smile. I built it, and I loved it, because it was mine."
He sighs, and looks down at his aged hands.
"You know what happened. You know how the company became something I couldn't control, something of its own mind. By the time it was all done, I was a prisoner of my own company, and all that mattered was the chicken. I had a heart, once. I was human. Not anymore."
He straightens his back, takes one last look at the blinding light, wipes the sweat which is by now covered his black-framed glasses, and returns to the fucked-up table.
"But that is the past. Today, gentlemen, we are looking to the future. And if there's anything that our so far-beneficial relationship has proven, it's that you don't need to make people think about your food for them to buy ridiculous amounts of it. You just need to make them think about what the food comes in."
In a dramatic turn from his previously sombre demeanour, The Colonel whips his white-and-red cape (which has not been mentioned up until this point due to dramatic effect) into the hair, grabs his enormous belly and guffaws directly into the warehouse's tin roof.
"HahahahHAHAHAHA. THE BUCKETS! YES, THE BUCKETS! IT'S ALWAYS BEEN THE BUCKETS!!!"
ACB Executive #3: "Colonel, we get it, you like the buckets. So do we, but Jesus, calm down."
"Do not tell me to calm down, you USELESS MAGGOT. Do you not see? Do you not see the majesty in it's design? A conical tube, sealed at one end, used to hold the chicken."
The Colonel suddenly lunges at the table, pressing his face hard against the closest victim.
"BUTDOESITNOTHOLDMORETHANTHECHICKEN!!!??!?!?!?!!"
"W-what?"
The Colonel pauses, a stone look on his face. He clicks his fingers again, a chicken server appears. The Colonel grabs his shirt collar, throws him to the ground and proceeds to beat him mercilessly with his cane.
"BUT *whack* DOES *whack* IT *whack* NOT *whack* HOLD *whack* MORE *whack* THAN *whack* THE *whack* CHICKEN!"
The executives stare, jaws wide open, at the bloody mess that now lies at the Colonel's feet. He wipes spittle and blood from his brow with his kerchief before returning to his chair.
"You think the bucket is just for chicken? The bucket is merely the conduit, but for taking, not just giving. Every bucket on a head, every time an aged commentator mentions them like it's a totally normal thing… that's one more soul, trapped, in the endless cycle of cricket and chicken.
"The chicken cannot be stopped. It WILL NOT be stopped. All we can do, now, is further its progress, and ensure that we, and our families, are safe in its wake. That is why we're here, gentleman. To save ourselves. Now, who has any ideas for the bucket?"
A long pause, before one executive tentatively leans forward.
ACB Executive #2: "Well, there was one thing…"
"What? What is it? Spit it out, worm."
"Well, we could make them green and yellow."
"Green and yell… GREEN AND YELLOW? HAVE YOU LOST YOUR TINY MIND! IT'S RED AND WHITE, YOU FOOOOOOOOOOOOOOL!"
The Colonel levels his cane at the executive, and in a blinding white flash of light, he is incinerated. All that remains is a clump of oily, brown flakes.
ACB Executive #3: "I… think he was implying that green and gold are Australia's national sporting colours, and any even miniscule connection to sporting culture appeals to people's basest instincts. As I think we're proving right now."
The Colonel wobbles to his feet, clicks his fingers and falls back just as the remaining chicken servers arrive to place a stretcher below him.
"Fine, do it. Oh, and make sure the mind control chips are fully operational before the first test."
All credit: https://www.themorningbulletin.com.au/news/aussie-buckethead-army-invade-barmy-army/3272571/